The Canada Express Entry Program is the fastest way for a professional looking to settle in Canada with their family. The CEE program is a relatively new program in Canada's immigration services. It is aimed directly at skilled labour that could contribute to the progress and growth of the country. In turn, this skilled labour is attracted to the opportunities and peaceful life Canada has to offer.
UNDERSTANDING THE CEE PROGRAM
To better understand whether this is the path you want to take for immigration to Canada, you should first learn what the CEE program is about and how it works.
Canada Express Entry Program is a new visa grant from the government boosted by the power of electronic processing throughout and speedy process with a greater and clearer selection of the candidates. The program allows employers in Canada to deal with a bigger pool of applicants and choose the applicant that suits best with their needs for employment.
The whole application process takes about six months if the applicant has submitted their application after proving eligibility.
Incidentally, the program allows you to submit your application any time of the year, which gives you room to plan and prepare for the time that suits you best.
The general requirements for eligibility for immigration to Canada remain the same under the CEE program, which means:
You must have sufficient work experience in an occupation listed in the Skill Level A or B or Skill Type 0 in the National Occupational Classification;
You must provide proof of your language proficiency in either English or French using a testing system the state of Canada trusts;
You must have sufficient education and provide an assessment report from one of Canada's designated bodies.
CANADA EXPRESS ENTRY PROGRAM APPLICATION STAGES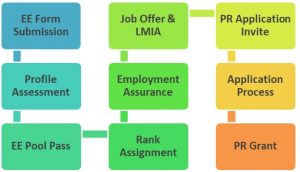 EE FORM SUBMISSION: The applicant prepares and files a fully online EE form into the database. They may be asked to provide supplementary documents needed to build a complete profile that employers and immigration Canada officers would want to see during the following stages of the process.
PROFILE ASSESSMENT: Once you have submitted your entry form, the immigration office will assess your documents and determine which permanent residence program suits your profile best or where you would be able to get a grant most easily.
EE POOL PASS: Once they have determined your classification, your application will be published in the appropriate database on the Canada Express Entry Program portal so that employers associated with that class of PR can easily view your profile.
RANK ASSIGNMENT: Depending on the points you could score on the Canada immigration eligibility grid, such as with your education, language proficiency, age, family, quality of application, etc., you will be assigned a rank on the portal. The higher your rank is the more visible your profile will be. Also, employers will begin looking for candidates from the top, since higher rank also means greater qualifications and skills.
EMPLOYMENT ASSURANCE: You must secure employment and get a job letter from an employer in Canada to proceed. This can be done in a number of ways: (a) You can look for employers suited with your skillset and experience to introduce your profile personally, (b) you can contact any of the Canadian provincial governments to grant you a slot in their designated quota of nominations, or (c) you can submit your profile in the CEE program Job Bank on the portal where all employers will be able to view your profile.
JOB OFFER & LMIA: Once you have come to an understanding with a Canadian employer, you must secure your job letter and a Labor Market Impact Assessment, which will take you to the next stage of the process.
PR APPLICATION INVITE: With these documents in hand, your rank will improve in the list and the IRCC will soon invite you to submit a formal application of permanent residence, expressing your desire to settle in Canada with your family.
APPLICATION PROCESS: Once you have submitted your PR application, the government and Canada immigration office will take about six months to process your application.
PR GRANT: The final stage of the process is the approval of your application and issuance of your permanent residence grant.
GETTING PROFESSIONAL HELP FOR YOUR CEE APPLICATION
While the CEE program is a faster and more efficient way of getting permanent residence in Canada, the process also leads to direct and higher competition. It gives employers more options to choose from, which lessens any applicant's chances of approval.
With our professional help guiding you through the process, you can build an application that leads to faster access to the EE pool, higher ranks, and faster assurance of a good job in Canada. We make sure this happens for our clients because we have streamlined processes and tried-and-proven methods to benefit our clients in comparison with the rest of the applicants in the program looking to settle in Canada.
Call 514-862-1761 today to get an appointment