Canada Immigration Services You Can Rely On
Canada has long since become the first choice for professionals to settle down with the family. A peaceful life, friendly communities, and ample work opportunities make immigration to Canada a goal for many professionals around the world. Our application and immigration services are designed to help you score high on the eligibility scale in the Federal Skilled Worker Program and submit an application they will not refuse.
HOW TO SETTLE IN CANADA
There are a number of ways one can migrate to Canada, but most of these ways involve using multiple visa categories before you can settle in Canada. Therefore, the best and the only direct way is to apply for Canada immigration as a professional with a family.
The process for this kind of visa can take several months and there will be much to do in terms of preparation, but there are certain guidelines that can be followed to increase your chances of success.
FEDERAL SKILLED WORKER PROGRAM
We often urge clients with a strong professional profile looking to migrate to Canada to take this direct route. The Federal Skilled Worker Program is the best fit for moving to Canada with your family if you are a professional with plenty of experience in an occupation that is a priority for Canada.
The process for the FSW program is considerably long. To protect applicants from feeling dejected if their application is refused after all that investment of money and time, the Canadian Immigration Ministry has prepared a set of clear eligibility criteria that gives interested people a specific idea about whether or not they can qualify for this visa category.
These criteria include guidelines on three key standards and an eligibility scale for your convenient understanding and preparation. The following includes minimum requirements for the FSW program applications for your convenient reading.
CANADA IMMIGRATION: FSW PROGRAM ELIGIBILITY CRITERIA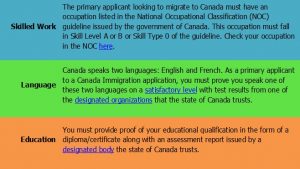 FSW PROGRAM ELIGIBILITY SCORING GRID
| | |
| --- | --- |
| SELECTION FACTOR | MAX. POINTS |
| Adaptability | 28 |
| Age | 25 |
| Education | 15 |
| Language | 12 |
| Secured employment in Canada | 10 |
| Work experience | 10 |
| Total achievable points | 100 |
You need a minimum of 67 points to become eligible and apply for the Federal Skilled Worker Program. Call us now on 514-862-1761 to set up an appointment where we can show you exactly where you fall in the grid and what you can do to make sure you are eligible to apply.
EXPERT GUIDANCE FOR YOUR CANADA IMMIGRATION APPLICATION
Canada receives thousands of applications for the FSW program every year. Most of these applications are refused for one reason or another. The reason behind this is often not that the applicant scored less than the required minimum points on the FSW eligibility grid but the fact that their application was simply not impressive enough. With so many applications coming in, the state has the luxury to choose the best applications to grant permanent residence in Canada.
Taking professional guidance for your complete Canada immigration process as well as for preparing the application can be the make or break for your dream to settle in Canada with your family.
As professionals who have helped numerous applicants with their visa applications to Canada, we are proud to offer our services to you as well. With our streamlined methods, we can save you a lot of money and time in the process and increase your chances of success.
Call in today on 514-862-1761 to learn more about our Canada immigration services